8-14-98
I have finished my first pic page...Chibi Moon Page! Its not full of all the pics I want to put on it, but It is up and looking nice...
I am sorry about the lack of pics on my page...my hard drive crashed. I will be updates this and the Macross page with plenty of pics, I should be finished on sunday, 8-16. Thanks for your support and comments!
-katz
08-03-98
Okay, It has been way too long since I have posted an update. First I want to thank all of you who have written or filled out my guestbook. I need your input too continue this site, I really need suggestions as to the content of this page, as stated in my last update, I have several goals in mind. I am interested in your comments and suggetions. Anyway, I have made a few changes, please let me know what you think...-katz
7-21-98 Hey everybody! This is my first update! Here is my plan for this page.
Bio for all characters
Weekly/monthly mini-survey
Full size survey
Synopses of the daily Toonami episodes
Picture gallery (Like there's not enough of those!)
Sorry about how dis-organized these pics are, I'll have to update that soon, now my top priority is just getting all the pages up and running, then I can smooth things out. I need everyone's input so please take the time to fill out my guestbook or e-mail me with suggestions, comments, anything you like.
Please enjoy my site and bear with me I promise it will improve!


Chibi Moon Page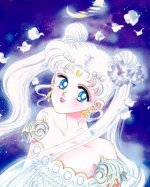 Macross|
Main Page|
Sign my Guestbook
---
Search CDNOW for the Sailor Moon Soundtrack!
---
Katz Anime Page ©1998 Geo and Kat Fancher Sailor Moon and related characters are copyright ©1992 by Naoko Takeuchi/Kodansha, TOEI Animation. English Version ©1995 DiC Entertainment. All others mentioned here are the trademarks of their respective owners. All images were aquired via the internet, and so I assume they are public domain. Katz Anime Page is desinated entirely for entertainment purposes