Sailor Moon Page|
Macross|
Sign my guestbook
---
---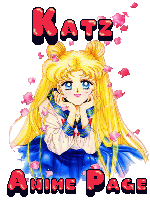 Thank You for visiting my web page!

This site is under constant construction. Please be patient with us. If you have any questions, comments, or whatever, they are greatly appreciated and can be directed to Myself or Bob. (He's responible to the design and what-not of this site.





Sailor Moon Page|
Macross|
Sign my guestbook
---
Katz Anime Page ©1998 Geo and Kat Fancher Sailor Moon and related characters are copyright ©1992 by Naoko Takeuchi/Kodansha, TOEI Animation. English Version ©1995 DiC Entertainment. All others mentioned here are the trademarks of their respective owners. All images were aquired via the internet, and so I assume they are public domain. Katz Anime Page is desinated entirely for entertainment purposes.